Choice of materials
We are a team of environmentally conscious consumers exploring innovative materials and more responsible production methods. It is our mission to challenge traditional production methods and consumer patterns. This is the starting point for our approach into material selection, production methods and the certifications we prioritise to have in our value chain.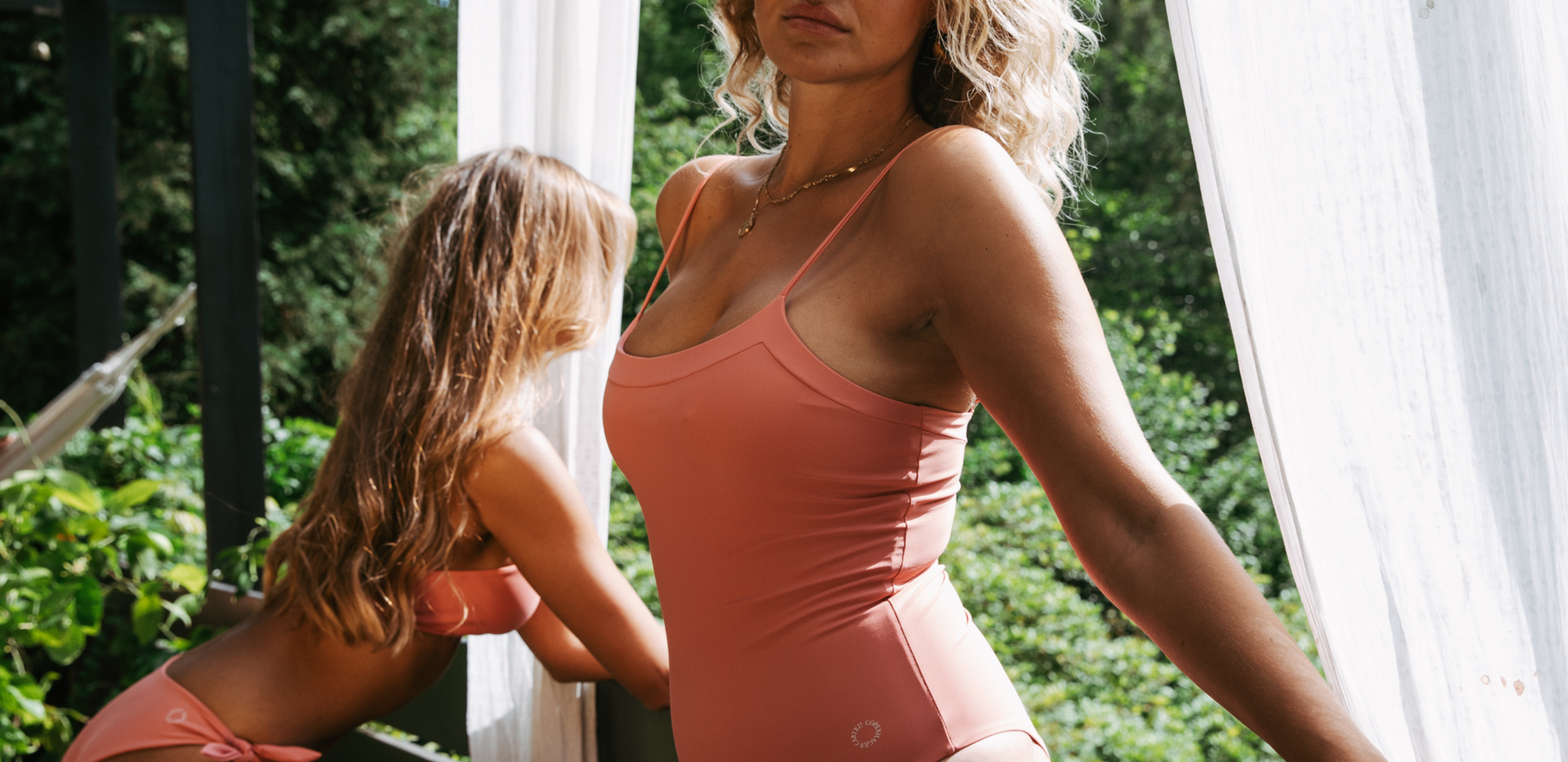 ECONYL®
Regenerated nylon yarn
ECONYL regenerated nylon yarn is made from 100% recycled nylon waste. ECONYL® regenerated nylon yarn consists of 50% post-consumer waste (for example old fishing nets that come from ports, fisheries, the sea and other places in aquaculture, it can also be old carpet remnants) and 50% is pre-consumer waste (for example industrial waste and other ) nylon fabric remnants). In our swimwear and sportswear, ECONYL® is combined with 22% elastane, creating a durable, stretchy and soft material that supports and shapes the body and enables a final product that stays where it should even when you move in it.

Our swimwear and activewear are primarily created from ECONYL® regenerated nylon yarn (78%) spun together with elastane (22%), creating durable, stretchy, and soft material and enabling an end product that stays where it must even when moving in it.
SEAQUAL®
Recycled polyester
Clean world oceans, that is the goal of the SEAQUAL INITIATIVE, which, through a global community of NGOs, fishermen, researchers, authorities and private stakeholders, makes an effort to clean up the ocean, rivers, beaches and coasts. They have developed SEAQUAL®-YARN, which consists of 100% recycled plastic (polyester). 10% of this is SEAQUAL® MARINE PLASTIC, which is made from garbage from the world's oceans. Also with full traceability.
All collected waste is sorted into different material types. The plastic part is cleaned and converted to SEAQUAL® MARINE PLASTIC at SEAQUAL INITIATIVE approved facilities in Europe. The marine plastic has been collected during sea clean-ups in Europe, the Mediterranean and the west coast of Africa.
SeaCell™
A mix of seaweed- and cellulose fibres
SeaCell™ is created from brown algae, Ascophyllum Nodossum, also known as Knotted Wrack, which is found in the sea. The seaweed is harvested with special machines that do not cause permanent damage to the plant. The seaweed is dried naturally, coarsely chopped and not subjected to chemical treatment. The seaweed is mixed with cellulose fibers.
The SeaCell™ fiber is CO2-neutral and biodegradable and created through a closed-loop production system - a process that recycles water and up to 99% of the solvents used. This creates very little waste and results in a fiber that biodegrades in water, landfills and other composting environments.
OCN WEED®
Copenhagen Cartel trademark
Our trademarked material OCN WEED® is created by mixing SeaCell™ and organic cotton. SeaCell™ is a material made from a mixture of seaweed and cellulose fibers, it is made from renewable resources and does not require harsh chemicals to produce. Organic cotton is grown without the use of synthetic fertilizers, pesticides or GMOs, making it a better alternative compared to conventional cotton.
We developed OCN WEED® to create an alternative to conventional cotton, the result is a material that feels silky soft and supple against the skin, and created from natural fibres with breathable performance ability.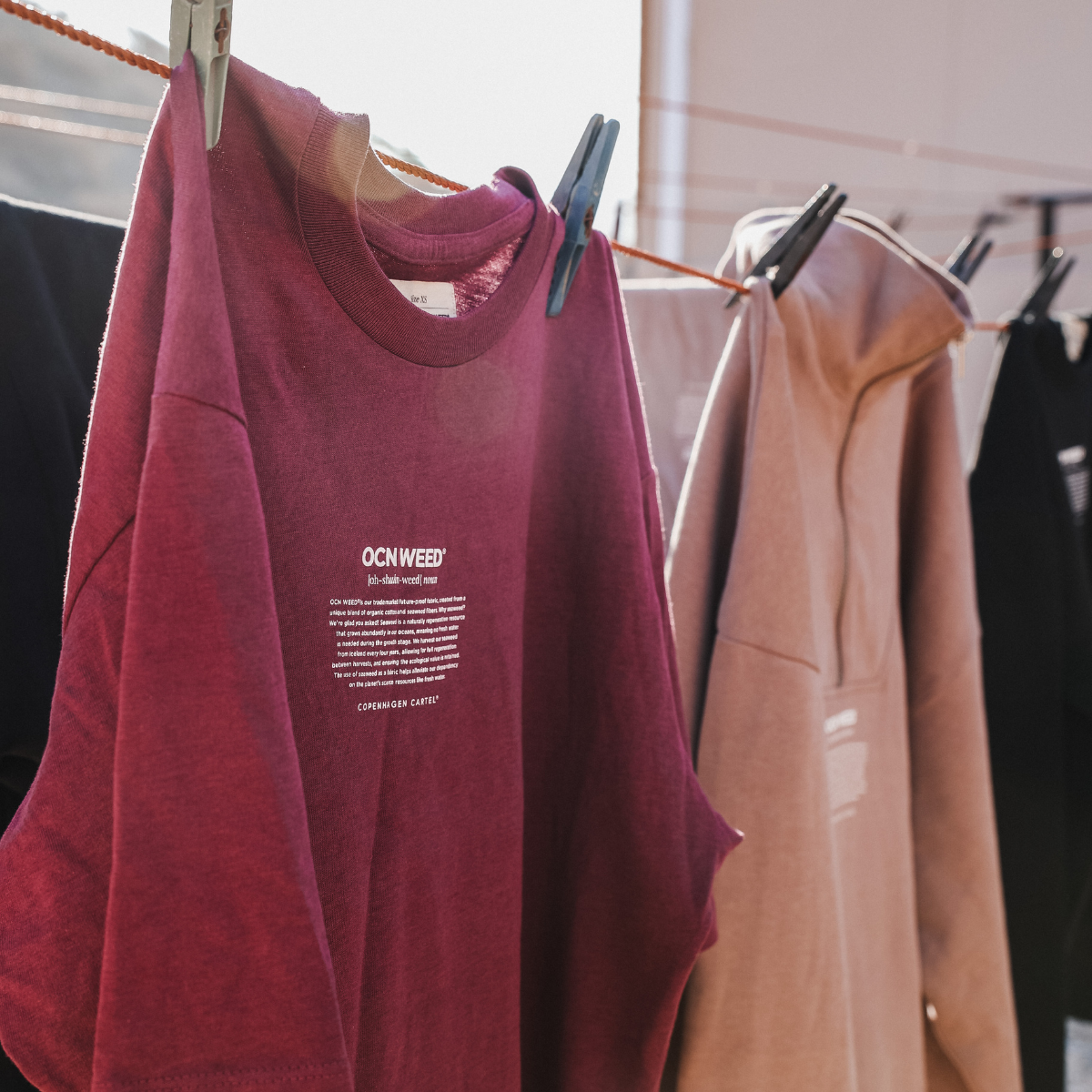 Dedicated to saving the world's oceans, we focus on creating positive change with a community of like-minded people who love the ocean as much as we do. That's why we surround ourselves with passionate and courageous people and brands who want to make a difference and create a better future – both for the planet and for us who live on it.
Our Packaging
We strive to use recycled and renewable materials in our packaging. We are constantly looking to learn and discover new innovative materials that we implement in our productions.
HANG TAGS & LABELS
Our hangtags, labels, flyers and business cards are all made from recycled and FSC-approved cardboard and paper.
FSC is an international non-profit labeling scheme for wood and paper. FSC certification ensures that products come from responsibly managed forests that provide environmental, social and economic benefits.
DUSTBAGS & POLYBAGS
To ensure that our products are protected from dust, moisture and other circumstances, we have to store them in polybags. Our polybags are all made from 100% recycled plastic.
We also use dustbags, which are made from 100% recycled residual and waste textiles. We use surplus materials from fabrics because it is a material that is often considered worthless, but which can easily be given a new life, such as our dustbags. It is also intended that our dustbags should be reused to store your vegetables, your laundry and they work really well when you need to pack your bag for a holiday.
PRODUCTION & MATERIALS
By recycling and using innovative fibers, materials and production methods, we give new life to waste that are normally considered worthless. 
If you have further questions about our materials and production methods, please write to us here or stop by our store at Nikolaj Plads 26, 1067 København K for a chat.