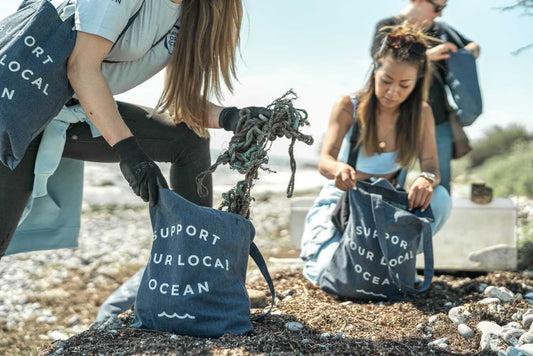 We must all take care of our oceans.
Our love and care for the ocean are our driving force. Inspired by the processes of the sea, we explore and develop innovative ways to transform waste into value and the least harmful ways to produce our products.
We are dedicated to creating positive change. That is why we surround ourselves with environmental organizations that all actively work to preserve the world's oceans and with passionate and brave people and brands that want to make a difference and create a better future.
An active part
We play an active role in cleaning up the ocean. Through our involvement in various initiatives, we work to highlight that the ocean is not a dumping ground but a fluid foundation for all lives.
We create products, collaborations, and initiatives that spread awareness and inspire more brands and people to restore and stay smart with ocean resources - 365 days a year!
Conversation starters
Our products do not solve the problem alone, not at all, but they remind us all about the importance of the ocean!
They are conversation starters to show, educate and inspire more to see the value and potential available when we restore the alliance between the ocean and humans.