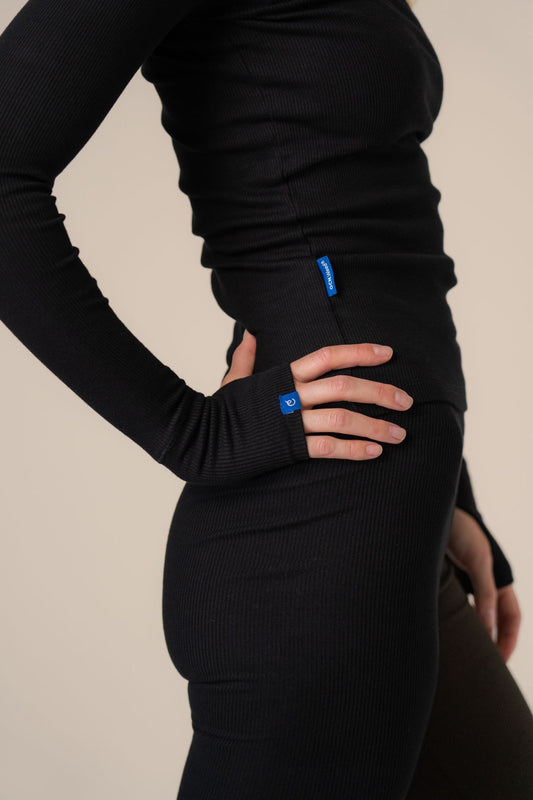 Algae ribbed long sleeve OCN Weed® top
Nero
Highlights

Blends 65% organic cotton, 5% elastane and 30% SeaCell™

Ribbed material for perfect fit (feels like a hug)

Stretchy and breathable

Thumbholes to keep warm

Versatile design
Details

Get ready to embrace Autumn with our Algae ribbed long-sleeve OCN Weed® top. This bad boy is a combo of SeaCell™ and organic cotton, not just giving the planet a high-five but also hugging your curves with its ribbed material that's like a warm embrace on chilly days. Plus, thumbholes are in the mix for that extra cozy factor and versatility – rock matching Algae leggings, our Reef cargo pants or underneath our Coast quilted vest, its a versatile choice for any occasion.

Our Algae ribbed long-sleeve OCN Weed® top blends 65% organic cotton, 5% elastane and 30% SeaCell™ - a symphony of natures materials. The SeaCell™ fibres adds a touch of aquatic magic, it's a natural cellulose fiber extracted from seaweed and wood pulp from sustainable forestry. The SeaCell™ fibres are mixed with organic cotton for exceptional softness and a luxurious embrace.
Materials & Care

30% SeaCell™
65% organic cotton
5% Elastane

OCN WEED® is Copenhagen Cartel's own patented product by the meter, which consists of 30 percent SeaCell™ and 70 percent organic cotton. In our rib styles we've added 5% elastane for stretch and fit

We have set strict requirements to ensure that we take care of nature in our production. The seaweed that SeaCell™ contains is harvested from Iceland and the different areas are only harvested every four years. This is done to ensure full regeneration between harvests and to preserve the ecological value. The great thing about seaweed is that it is a natural and regenerative resource that is already growing in abundance in the ocean. The seaweed doesn't actually need anything other than the water it's already in.

We recommend that you wash your OCN WEED® product at 30 degrees. It helps your style last longer, and is also kinder to the planet. We advise against cleaning, tumble drying or ironing your OCN WEED® product.